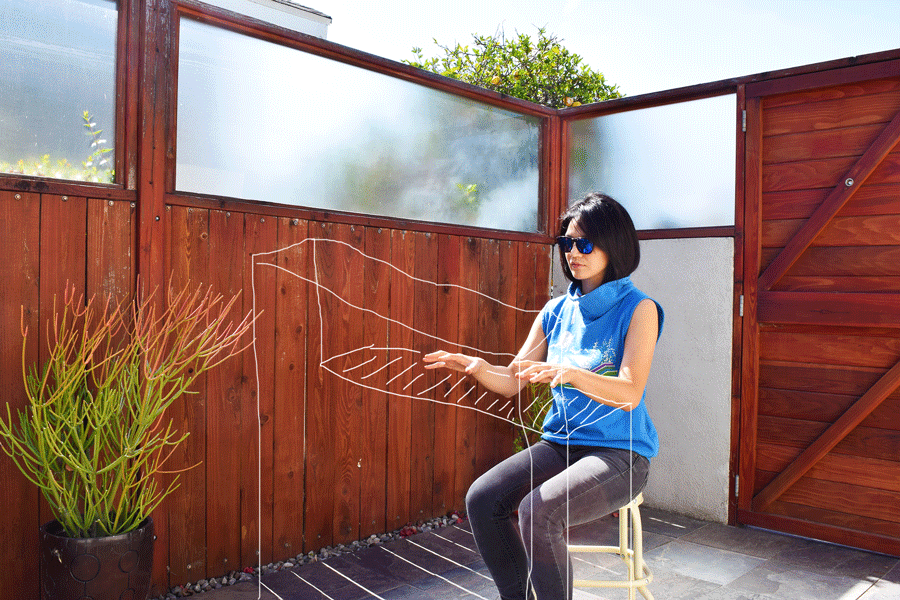 The first time I saw Wendy Wang perform was at the Hi-Hat, a new venue in the Highland Park neighborhood, with her band, The Sweet Hurt. A friend let me know the gravity of the sitution. "You gotta see this show."
Find out more about Wendy at thesweethurt.com.
---
What was the last thing you listened to?
I think it was a Kacey Musgraves
song. Some friends were saying, "Oh, you gotta check her out." But I didn't know she was an artist until a couple days ago.
Do you listen to a lot of country music?
Not really, so I tried to go into it with an open mind. Right away when you listen to it, there are certain aesthetics that are very different from other things I would naturally be drawn to. But there were some really nice songs I liked.
---
What was your first instrument?
I went to my first piano lesson when I was four. So piano is my first instrument. And I remember the first song I ever learned, I'll always remember how to play it. It was in one of those stock books, this red book that was landscape. I just thought it was fun. "It's just like a video game! You see that, and you do that."
Did you want to play piano in particular?
I think my parents just signed me up, but I was excited for the opportunity, because my older sisters had been playing, and I was thinking, I want to try it out, too.
What was the actual piano you played on?
An upright Kimball, I think. I guess probably a student model piano. It wasn't a tall one, maybe... three-quarters? I don't know the exact "categories" of pianos are.
Do you still play piano?
I do, yeah. But I quit lessons when I was twelve years old, and I remember at the time thinking, I'm never going to get any better at this, this is not fun. The pieces got harder and I didn't want to practice. But... I started taking lessons again earlier this year.
What prompted that?
I was listening to a lot of R&B and thinking, Wow, this harmony is— it's not straight-ahead jazz, it's not straight classical stuff. "Mister Chameleon
" by KING, for instance. I was interested in how people were figuring out those voicings, and I thought it was beautiful. And I knew players who could play like that, so I started asking them.
Now that you're a musician, piano lessons have to be fairly different right?
Yeah, now I go in and I have more questions. I ask for more information. And I'm just more excited about going. And I'll actually practice.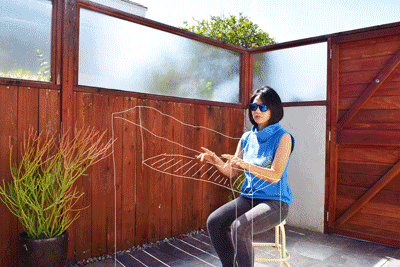 What was your first instrument that was really yours?
I'd say guitar was the first one. We had an exchange student living with us, when I was in middle school. He was from Switzerland, and he had a friend who was a musician, from the local high school, who lent him a guitar. So when he wasn't playing it, I would ask him, "Can I play your guitar?" I ended up just taking it over and playing for hours every day. So that's when I knew I was really into something. I was like, "I do want to practice, I do want to get better at something."
So that was your first musical instrument right after piano?
Well, there was also clarinet in school band. Clarinet always confused me — well, you just play one note at a time. One note at a time was so foreign to me, being a pianist. But then I realized, well, alright, you play with a group of people, I get it. But I never thought, I'm going to learn how to solo on this thing and write duets for the clarinet.
Do you remember what kind of guitar it was?
It was a nylon string. But the funny thing was, there was no high E string on it.
So it was a five string guitar?
Yeah, it was a five string guitar. I remember going to my next door neighbors' house and they had a guitar. Oh my gosh, they have the E string!. I started playing a Stone Temple Pilots song that required that note.
You knew your guitar was missing that string?
Yeah! I would practicie as if it were there.
But it seemed like an impossibility that you would add the string?
Yeah, I looked at the mechanics and I was like, I don't know how this works, and it wasn't my guitar. About a year later, my mom got me a guitar, a classical guitar, with all six strings on it.